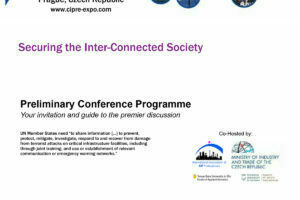 As someone responsible in your organisations for critical assets and/or infrastructure, Critical Infrastructure Protection and Resilience Europe is the leading conference that will keep you abreast of the changes in legislation, current threats and latest developments.
Download the Preliminary Conference Programme Guide at www.cipre-expo.com/guide.
What is the new directive on the Resilience of Critical Entities...
The Directive on the Resilience of Critical Entities entered into force on 16 January 2023. Member States have until 17 October 2024 to adopt national legislation to transpose the Directive.
The Directive aims to strengthen the resilience of critical entities against a range of threats, including natural hazards, terrorist attacks, insider threats, or sabotage, as well as public health emergencies.
Are you up to date on this legislation, and do you know what you need to do to be compliant?
Get updated on the NIS2 Directive and what it means to you...
An important discussion will centre around the EU cybersecurity rules introduced in 2016 and updated by the NIS2 Directive that came into force in 2023. It modernised the existing legal framework to keep up with increased digitisation and an evolving cybersecurity threat landscape.
By expanding the scope of the cybersecurity rules to new sectors and entities, it further improves the resilience and incident response capacities of public and private entities, competent authorities and the EU as a whole.
Businesses identified by the Member States as operators of essential services in the above sectors will have to take appropriate security measures and notify relevant national authorities of serious incidents. Key digital service providers, such as search engines, cloud computing services and online marketplaces, will have to comply with the security and notification requirements under the Directive.
What will this mean for you and how can you meet the Directives goals?
Critical Infrastructure Protection and Resilience Europe is Europe's leading discussion that brings together leading stakeholders from industry, operators, agencies and governments to collaborate on securing Europe's critical infrastructures.
The conferences top quality programme looks at these developing themes and help create better understanding of the issues and the threats, to help facilitate the work to develop frameworks, good risk management, strategic planning and implementation.
The packed event themes include:
- Interdependencies and Cascading Effects
- Emerging Threats against CI
- Crisis Management, Coordination & Communication
- Power & Energy Sector Symposium
- Government, Defence & Space Sector Symposium
- Communications Sector Symposium
- Information Technology (CIIP) Sector Symposium
- Transport Sector Symposium
- CBRNE Sector Symposium
- Technologies to Detect and Protect
- Risk Mitigation and Management
- The Insider Threat
- Business Continuity Management
- EU Horizon Projects Overviews
You are invited to be a part of this program, where you can meet, network and learn from the experiences of over 40 expert international speakers, as well as industry colleagues who share the same challenges and goals.
Please join us and the CI industry in the beautiful city of Prague, on 3rd-5th October, for a great programme of discussions that can help you to deliver enhanced security and resilience for your organisation.
Visit www.cipre-expo.com for further details