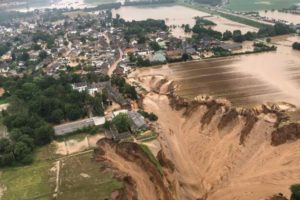 Heavy rainfall has triggered devastating flooding causing dozens of casualties in Western Europe. Parts of Scandinavia are enduring a lasting heatwave, and smoke plumes from Siberia have affected air quality across the international dateline in Alaska. The unprecedented heat in Western North America has also triggered devastating wildfires.
"Whilst rapid attribution studies have shown the clear link between human-induced climate change for the unprecedented heatwave episodes recorded in the Western United States and Canada, weather patterns over the whole northern Hemisphere have shown an unusual planetary wavy patterns in this summer. This has brought unprecedented heat, droughts, cold and wet conditions in various places. The connection of this large-scale disturbance of summer season with the warming of Arctic and the heat accumulation in the ocean needs to be investigated," said Dr Omar Baddour, head of WMO Climate Monitoring and Policy Division.
European Floods
Some parts of Western Europe received up to 2 months worth of rainfall in 2 days on soils that were already near saturation. The top 1 meter of soil was completely saturated or well above field capacity after the intense rain in the most affected regions of Belgium, Netherlands, Luxembourg and Germany.
In terms of the human toll, Germany and Belgium were the worst hit countries by the floods in Europe. Authorities reported at least one hundred people were killed, with many more missing as people were trapped or swept away by waters. Images of collapsed houses and landlides showed the force of the waters.
Heatwaves
While Central Europe suffered deadly floods, Northern Europe has been gripped by an extended heatwave
Finland had its warmest June on record, according to FMI. And the heat has extended into July. Kouvola Anjala, which is in southern Finland, has seen 27 consecutive days with temperatures above 25°C. This is the longest heatwave in Finland since at least 1961.
Western USA and Canada has also been gripped by heat, with many records broken in the most recent heatwave last weekend in SW USA. eg Las Vegas tied its all-time record of 117°F (47.2°C), as did Utah.
Death Valley, California had reported temperature of 130°F (54.4°C) 9 July, according to the US National Weather Service in Las Vegas. WMO is ready to verify new extreme temperatures We are currently evaluating 130°F reading in Aug 2020 at Death Valley, which holds world highest temperature record.
The megadrought conditions, very dry fuels and heatwaves are fuelling the occurrence of extreme wildfires this year in west USA, as well as western and central Canada.
Climate Change attribution
Climate change is already increasing the frequency of extreme weather events, and many single events have been shown to have been made worse by global warming.
The record-breaking heatwave in parts of the US and Canada at the end of June would have been virtually impossible without the influence of human-caused climate change, according to a rapid attribution analysis by an international team of leading climate scientists. Climate change, caused by greenhouse gas emissions, made the heatwave at least 150 times more likely to happen.
As the atmosphere gets warmer it holds more moisture which means it will rain more during storms, increasing the risk of floods.
The study, published in the journal Climatic Change, found that the higher the level of global warming, the projected increase in frequency or severity or both will be stronger for hot weather, droughts and flooding in the UK. These high-impact weather events can cause significant disruption across the UK affecting sectors such as health, transport, agriculture and energy.
IPCC Special Report Global Warming of 1.5°C mentions that human-induced global warming has already caused multiple observed changes in the climate system. Trends in intensity and frequency of some climate and weather extremes have been detected over time spans during which about 0.5°C of global warming occurred. Changes include increases in both land and ocean temperatures, as well as more frequent heatwaves in most land regions. Further, there is substantial evidence that human-induced global warming has led to an increase in the frequency, intensity and/or amount of heavy precipitation events at the global scale.
Several regional changes in climate are assessed to occur even with global warming up to 1.5°C as compared to pre-industrial levels, including warming of extreme temperatures in many regions, increases in frequency, intensity and/or amount of heavy precipitation in several regions.